New strong trio aims to become the number one insight provider for consumer buying behavior in the Nordics.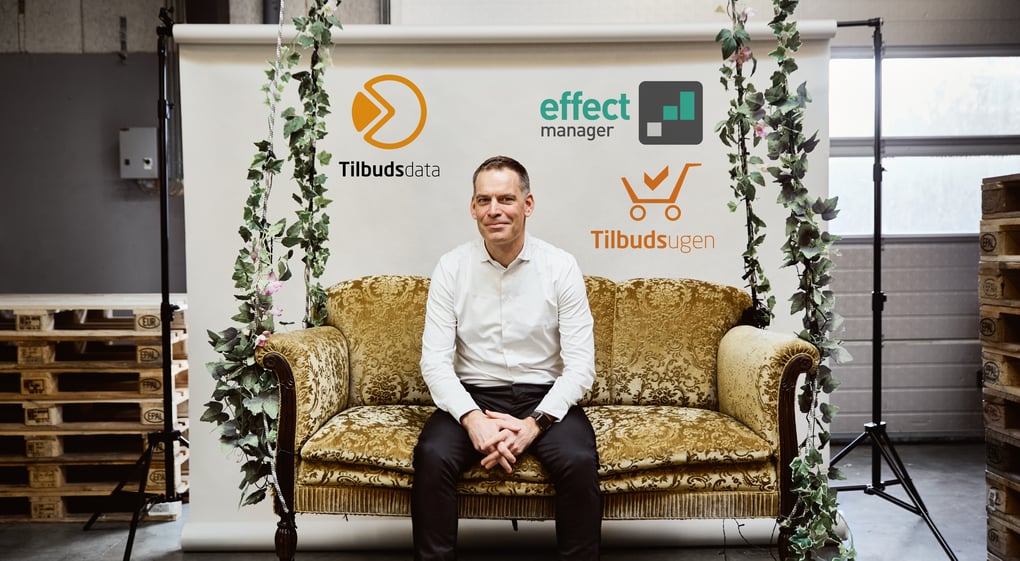 effectmanager acquires 1st-Retail and Tilbudsugen.dk

effectmanager, has acquired Tilbudsugen.dk and 1st Retail, the company behind Tilbudsdata. "Our goal is clear. We want to be the number one partner for promotion optimization, analysis, and planning in the Nordics," says Jesper Drachmann, CEO of effectmanager.
The right product, in the right quantity, at the right price, and at the right time – This, is what retailers and their suppliers aim for every time they sell a product. Now, they can significantly increase their chances of hitting the target with their sales forecasts and pricing strategies.
All three companies already have customers in the Nordic countries, and consumers know and use Tilbudsugen's pages in the four Nordic countries. With the acquisition of the two companies, effectmanager doubles the number of employees and triples the number of customers.
"We are now consolidating all our knowledge, skills, and data about the customer journey into one company. This means that in the future, it will be even easier for our customers to obtain the desired data and perform the right analyses," explains Jesper Drachmann.
"In essence, our customers had to collect and structure all data themselves across the three services. Now, our customers will have an easier time than shopping at IKEA, where you must fetch multiple different packages and assemble the items yourself. We provide everything as one package - ready to use."
Jesper Drachmann, who has more than 25 years of experience in both FMCG and retail, has an in-depth knowledge of marketing, customer journeys, data, and product flow from both the supplier and retailer sides. He is pleased that the employees from the other two companies are joining effectmanager.
Another positive effect of combining Tilbudsdata and Tilbudsugen.dk under effectmanager is that it gives existing and new customers more opportunities to use the unique data from Tilbudsugen.dk and Tilbudsdata for planning, reporting, and analyzing commercial activities.



Henriette Weinreich, Brand & Research Manager Fritz Schur Consumer Group, is delighted with the new partnership:
"We already subscribe to effectmanager, Tilbudsdata, and Tilbudsugen, all of which provide useful data for us. Going forward, we will get everything delivered collectively through one channel. We expect that when you combine three important data sources about promotions, consumer behavior, and our out-of-store sales, we will become more efficient in our analysis. This will improve our collaboration with our customers, increase our consumer insights, and ultimately enhance our ability to forecast sales. I can only see advantages in this partnership," says Henriette Weinreich.
Jesper Drachmann also guarantees that the new consolidated entity will help both retail chains and their suppliers to utilize sales and promotion data even better.
"We are bringing all sales and service together in effectmanager's new headquarters in Skanderborg, which also means that customers will only need to call one place instead of three when they have questions or requests for the data we provide. We will serve our customers even better than we do today."


For further information, please contact:
Jesper Drachmann
Phone: 23635254
Email: jd@effectmanager.com
Background:
effectmanager - 1st Retail - Tilbudsugen.dk
effectmanager is a Danish software company that has always worked with the mission of making it easier for retail suppliers and retail chain buyers to optimize their collaboration. effectmanager is a trade promotion management software (TPM) that helps retail suppliers and retail chains analyze and optimize their promotions. With effectmanager's tools, all necessary data is collected in one place, allowing customers to quickly and easily get an overview of which promotions are most profitable. Today, effectmanager handles sales data from 25 different retailers across the entire Nordic region.
In addition, effectmanager enables improved forecasting while also improving the relationship between the supplier's key account manager and the buyer at retail chains by optimizing the double bottom line. With over 10 years of experience in FMCG and retail, effectmanager aims to make it easier for retail suppliers to optimize assortment and campaigns.
1st Retail is a Danish data processing company that has mapped all physical and digital promotion leaflets across the entire retail sector in Denmark, Sweden, Norway, and Finland for over 20 years. 1st Retail has also made it possible for suppliers and chains to analyze their own and competitors' promotional offers.
With the product Tilbudsdata from 1st Retail, the customer can track their campaigns in promotion leaflets in an easy and accessible way, while the level of detail allows for advanced analysis. Tilbudsdata is one of the most important data sources for creating business insights and providing the customers with everything from quick week overviews to in-depth campaign analyses of their own and competitors' promotion leaflet campaigns.
Tilbudsdata records every price point in a physical or digital advertising leaflet down to the individual variant of the offer, as well as the placement and size of the image. Data quality is crucial for Tilbudsdata, as suppliers or retail chains must be able to trust and actively use the data in their promotion analysis and planning. Therefore, there are always data processors at Tilbudsdata who ensure the quality of all promotions and optimize them according to the customers' wishes.
Tilbudsugen.dk has been delivering digital advertising leaflets and prices on groceries to consumers for over 20 years. Tilbudsugen.dk is one of the preferred websites for Danes, Swedes, Norwegians, and Finns to find and track the latest offers in digital and physical promotion leaflets - across all chains. Consumers can easily find out where to shop for the cheapest price, create shopping lists, and set up an offer agent to track prices on the most purchased and relevant products.

For danish version of the press release click here