How a trade promotion overview will give your 15% more time for planning and analysis
Most Key Account Managers planning trade promotions have an overview of the coming period. It is a request internally from finance, supply, and field force, but also externally from the retailers. Often the overview is in different Excel-sheets, making it difficult to have a complete overview for both historical, present, and future promotions.
More than 50% of suppliers to Retail still store trade promotion data in different Excel-sheets. Using Excel, you may lack an overview of your promotions across retail chains and the optimal product Mix for each chain? Having data in different Excel-sheets also makes it hard to get an overview of the promotion mechanisms, trade spent, subsidy, trade terms, etc.. You may ask yourself why it is important to gather this data in a comprehensive overview?
Most common problems of lacing an overview
Lacking an overview of trade promotions across wholesalers and chains.
Lacking an overview of wholesaler pains (Product Mix, Profits and Consumer Behavior).
Lacking an overview of optimal promotions mechanisms.
Lacking an overview of POS and Promotion data across wholesalers.
Read here where I explain the benefits of consolidating trade promotion and POS data and give you the method for getting a full overview of your data to optimize your trade promotions and increase your profits.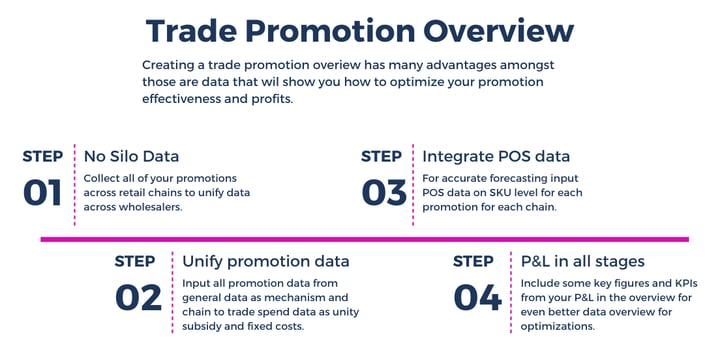 How to organize your trade promotion and POS data and the benefits of each step
On average, 25% of Gross turnover is paid in Trade Spend to the Retailers. By organizing your trade promotion and POS data, you can analyze your data, find optimizations, and increase your profits. Even small optimizations lead to increased profits.

There are a lot of reasons for making a full overview of your data. If you want to improve your business and profits, you need to start by creating an overview. But how do you unify your data?
Below are 4 steps to unifying your data to gain valuable insight through analysis.


1. Unify Promotion data across Retail Chains - No Silo Data
Before unifying your data, you must decide where and how you want to do it. We recommend doing it so all functions in the organization can access the data, so you do not work in data silos. It can be done in Excel or with a software like effectmanager tpm.
When you have selected where to unify your data, collect all of your promotion data, across chains both historical, present, and future promotions across chains, and input the data.
When all three stages of promotions are visible in an overview, your data can help you identify improvements and optimizations.

2. Input Promotion Data
When you have unified promotions across chains, you must identify your key performance indicators for promotions success across the chains. By using the same KPIs across chains, you will get valuable insights on which promotions perform best in which chains.
Inputting general promotion data as chain, promotion week, type, and mechanism, you will be able to identify which mechanisms are most effective in which chain. It is most important to input general promotion data that you find relevant.

Inputting trade spend data as fixed Costs, Unit Subsidy, and Trade terms will allow you to identify your total trade spend on each promotion. This way, you will gain insight into how much you pay on each promotion and find ways to optimize it.



3. Integrate your expected sales and POS data
When you have gathered your promotion data across chains inputting expected sales and the actual point of sales data for each promotion, you will have a complete overview of how your promotions are performing. It also provides data for forecast volumes for future promotions.
For a more accurate forecast for each promotion, you need to do it at an SKU level. Inputting expected actual sales, on an SKU level, you can find the right product mix for each chain. Not all products perform the same way in each chain, and this will help you identify which products.
Inputting promotion data at the SKU level will provide you with an overview that is the basis for more accurate promotion finance and improve your forecasting accuracy and financial budgeting.

4. Include P&L calculations key figures
For an even better overview of how your promotions are performing across chains, also include some key figures from your promotion P&L in the overview.
Add P&L key figures such as your cost-benefit, the chain's cost-benefit, profit contribution margin, and share of Net turnover. Then you will have a basis for in debt insight and analysis for each promotion, but also across the chains.
By including P&L calculations for the chain, you can take action on the data and plan your trade promotions with a focus on the double profit line. By planning promotions, that are beneficial for both you and the chain, it will improve your relationship with the chains.

Why you should create an overview for bettering your trade promotions
An overview of trade promotions across wholesalers makes it easier to measure and analyze trade promotion sales and effectiveness. Having an overview of promotion mechanisms provides you with data and insights for optimizations and profits. POS and Promotion data across wholesalers allows you to build strong business cases, easy reports for your customers (both monthly overviews and for yearly negotiation), and a promotion plan for customers. By getting knowledge of the wholesaler's pains you can advise the buyers in having the right product mix and increase trust through transparency.

With all optimizations, you must remember that it is not a sprint but a marathon. Changing internal processes takes time. But even with small adjustments to your internal processes, you will see where to make adjustments to improve your profit.

The next step is to use your overview to analyze your data and gain valuable insight into promotion optimizations. By acting on your promotion insights and making optimizations, you can use your new processes to drive profitable growth.


---
Do you need a helping hand with creating an overview?
It can be complex to create an overview of your promotions in Excel and share data across all functions in your organization. We have a framework for creating overview and insights, where all data is gathered in one system.
We want to share our expertise with you on how you can improve your trade promotion process.
You can give us a call at +45 7211 2113.