How you can improve your promotion profit by up to 5% with trade promotion management
The largest operation expenses for FMCG delivering to Retail is the Promotion Costs. Each time a promotion runs, there are direct costs linked with the promotion – as much as 25% of Gross Turnover is paid in Trade Spend to the retailers. Even small adjustments to your trade promotions effectiveness will improve your profit.
There are also other factors linked with promotions that are very important to be on top of. One of these factors is correct volumes - Out of Stock situations and On-Shelf availability is essential for every sale you make. Running a promotion and not having accurately forecasted volumes can affect your relationship with your customers, but also with the consumer who dislikes not getting what they came for. Every missed sale is a missed opportunity for you. The solution to improving your trade promotions and their effectiveness is trade promotion management.
Here is how Trade Promotion Management will help you improve your profit
With Trade Promotion Management, you can see the effectiveness of your promotions. You will get insight to your trade spend, which promotions are producing the best ROI (Return On Investment), how the double-profit line benefits you and your customers, and which promotions mechanisms are producing the best results.
With Trade Promotion Management there are a lot of internal functions in play from KAM to Demand Planners and finance to an executive team.
By aligning your trade promotion activities and data you can identify in the data which mechanisms, products and price point are not performing. Having an overview and a plan for promotion optimization to improve promotion effectiveness is the road to make your profit soar. Improving your Promotion profit consists of four stages.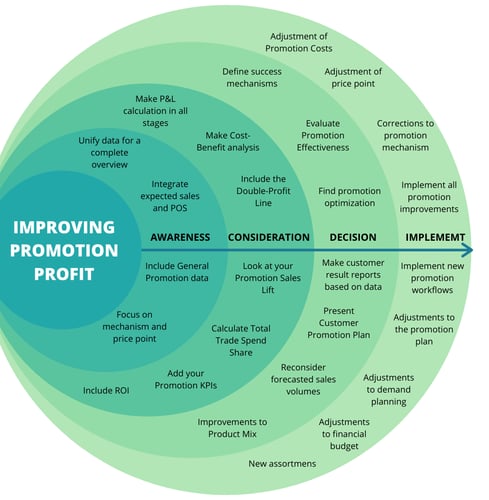 1. Awareness
To become aware of how your promotion finance is, it is very important to create an overview of all your promotions, sales data, prices and other promotion costs across Retail Chains. This will help you to make the correct analysis of your promotion data to become aware of how your Trade Promotions are performing.
You can create the overview in Excel or other formats, but it can be a very complex job to keep track of data in this way. Using a TPM software for consolidating all your data from different systems like ERP, SAP, Navision etc. will provide you with the insights need to consider which optimization to make.

2. Consideration
Using your unified data for analysis is how your identify promotion mechanisms you should consider optimizing to improve your promotion effectiveness and profit. Use your P&L calculations in all steps of the promotion process from planning to completed to quickly identify areas for optimization.
By doing a Cost-Benefit analysis for you and the customer you include the Double Profit Line in your trade promotion analysis. Including the double-profit line will secure that the retailers can trust that you as manufacturers are providing a clear path to higher sales and bigger profits. In turn you as the manufacturers will reap the benefits of increased revenues.
An analysis of your completed promotion data should always including vital promotion KPIs such as Total Trade Promotion Spend in Share of Net turnover, Promotion Costs, Return on Investment, and Promotion Lift. Analyzing past promotions will show you which successful promotions to consider running again and it is easier to make a decision about your optimization plan and define promotion success parameter.

Making a promotion effectiveness dashboard of your unified data will help you identify optimization of your promotions.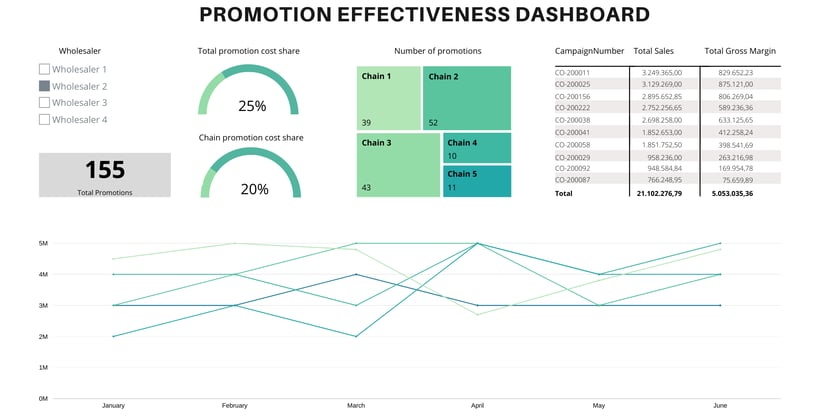 3. Decision
Making optimization to your promotions based on a data driven strategy will allow you to increase your promotion effectiveness.
Running more effective promotions, with even small adjustments will improve your promotion costs such as subsidy or fixed costs and result in improved promotion profit.
More effective promotions is not the only gain by having a complete promotion overview. An overview that includes promotions' P&Ls will make it easier to report on the promotion results to your customers. Better data quality will make for better reporting. Reporting on both good and bad results will create transparency with your customers and open up dialogue about improvements.
Transparency and more effective promotions will nurture your customer relationship. Showing your customer great result will also help you be top of mind when they have a gap in their promotion window – allowing for more trade promotions and a wider assortment.
Like a snowball rolling, making trade promotions management with a data driven strategy you will also see a lot of positive side effect if you effective all areas of the optimizations.

4. Implement
Demand planning and forecasting can often be a very time consuming process and in many cases based on gut feelings. Basing demand planning on best guesses are often due to a lacking overview of your customers promotions and sales data. Including your POS data in your promotion overview allows you to base future promotion volumes on actual data and not a best guess. This will increase your forecasting accuracy – having correct volumes for future promotions will secure no Out of Stock situations, No overstocking on your or the customers warehouse and securing On Shelf Availability for the consumers.

Trade promotion management is an ongoing activity in your promotion process which will make your go-to-market strategy much stronger and secure you increased promotion profit.

Sincerely,
effectmanager

---
Do you need the tool improving your trade promotion profits?
Trade Promotion Management is an ongoing activity in your promotion process that will make your go-to-market strategy much more powerful and secure you an increased promotion profit.
We want to share our expertise with you on how you can improve your trade promotion process.
You can give us a call at +45 7211 2113 or write to us at info@effectmanager.com